The best Instant Pots for 2022
With an Instant Pot, cooking meals is faster and easier. You can create quick recipes for everything from shredded chicken to dessert with less time and effort.
Our pick for the best Instant Pot is the tried-and-true Instant Pot Duo 8-quart. The model is large enough to fit a whole chicken or roast, yet versatile enough to cook everything from cheesecake to chili. If the Duo 8-quart isn't for you, we've also picked our best Instant Pot models for an individual, a family of four, a large family, and those on a budget.
If you're looking to snag a discount, you also can check out our list of the best Instant Pot deals available today.
Instant Pot Duo 8-quart
Best Instant Pot
Great safety features
Versatile
Makes many dishes reliably
Lot of recipes available online
Not intuitive
Might be hard for users to adapt their own recipes
When people think of an Instant Pot, the Duo is usually the model that comes to mind. The 8-quart Instant Pot Duo stands out for its features and affordable price point. That's not to say other models aren't solid devices, because many other Instant Pots are excellent multifunctional pressure cookers. However, the Duo strikes a perfect balance between affordability and the features it offers.
The Instant Pot Duo combines a rice cooker, pressure cooker, slow cooker, steamer, yogurt maker, and warmer into one convenient package. It boasts a variety of user-friendly features, ranging from a slot on the handle to place the lid to a steaming rack with handles so you can easily remove it from the pot.
The 8-quart Duo can hold a lot of ingredients. You can easily fit a whole chicken into this Instant Pot, brown 3 to 4 pounds of frozen ground beef, or cook a large roast. If you like making stews, this pot can hold enough to feed eight to 12 people. For dessert lovers, the 8-quart Duo can easily fit an 8-inch springform pan and some 9-inch round pans.
Instant Pot Duo 8-quart
Best Instant Pot
Instant Pot Ultra 6-quart
Best Instant Pot for a family of four
Adjustments available for high-altitude cooking
Great for slow-cooking meat
Cooks eggs well
Requires significant counter space
Burning warning can be oversensitive
The Instant Pot Ultra electric pressure cooker covers just about anything you might want to do in the kitchen. It has 10 main functions, including a pressure cooker, slow cooker, rice/porridge cooker, yogurt maker, cake maker, egg cooker, sauté/searing, steamer, warmer, and sterilizer. That means you can have just one appliance take the place of several. It's also intuitive, with a central dial that makes it easy to select different programs, adjust times, and more.
The Instant Pot Ultra 6-quart also features an embedded microprocessor, which helps to monitor the pressure and temperature while adjusting the intensity accordingly, helping to ensure well-cooked food. Plus, the pressure cooker offers 11 safety features, including a new steam release reset button that makes it safer for users to handle the appliance. Six quarts is perfect for a family of four, but you can also choose the 3-quart or 8-quart option.
Instant Pot Ultra 6-quart
Best Instant Pot for a family of four
Instant Pot Duo Crisp 11
Best Instant Pot for a large family
Relatively quiet air frying
Wide variety of cooking functions
High overall capacity
Air fryer capacity limited
Limited display
The Duo Crisp 11 has, you guessed it, 11 cooking presets, serving as a faithful pressure cooker, rice cooker, slow cooker, yogurt maker, steamer, sous vide, sauté, food warmer, cake maker, and air fryer with two fryer lids. For a large family with people who like different foods, this cooker is ideal because it's extremely versatile.
Cooking is faster and easier in the Duo Crisp 11, as the pressure cooker lid automatically seals in place, and the multilayered air fryer basket features a dehydrating and broiling tray to deliver optimal airflow to all those fried goods. The embedded microprocessor constantly monitors the pressure, temperature, and intensity of the cooking process, evenly distributing heat to ensure a perfectly pressure-cooked and delicious creation.
Another cool feature of the Instant Pot Duo Crisp 11 is Instant Pot's patented Even Crisp Technology which uses a blend of convection and sensors to deliver a crisp golden finish to the outer layers of your food while preserving a moist, savory interior.
Instant Pot Duo Crisp 11
Best Instant Pot for a large family
Instant Pot Duo Nova 6-quart
Best Value Instant Pot
Easy to clean
Affordable
Good build quality
Metal exterior can get hot
Noisy
The Duo Nova, one of the newer models in the Instant Pot lineup, sells for around $70 to $100 for the 6-quart size. You can find the device on sale for cheaper during events like Prime Day, Black Friday, and Cyber Monday. There's a 10-quart version of the Duo Nova (which sells for around $130 to $160) for when you're hosting a large group of people or when you want to cook an exceptionally large meal. Like the Duo, it combines seven appliances in one. It's a pressure cooker, slow cooker, rice cooker, steamer, sauté pan, yogurt maker, and warmer. It has 14 different programs, so you can cook anything from soup to a whole chicken to dessert.
One great feature of the Duo Nova is the lid. It automatically sets to seal in pressure when you close it, so you don't have to worry about forgetting to set the sealing valve in place. The lid also includes a steam release button, which makes it much easier to perform a manual pressure release without burning your fingers. All in all, the Duo Nova offers a whole lot of features for only a little bit of cash.
Instant Pot Duo Nova 6-quart
Best Value Instant Pot
Instant Pot Pro Plus
Best feature-rich Instant Pot
Incredible versatility
Major usability improvements
Remote control functions fun and useful
Community recipes can be hit and miss
The Instant Pot Pro Plus is a fresh addition to the lineup. It packs the most features out of any other model on the list. Of course, you get the usual sautéeing, slow cooking, sous vide, and yogurt making, but you also get canning, which is only available with a few models. The real kicker is the smartphone connectivity that you can use to peruse hundreds of recipes and beam them directly to the Instant Pot Pro Plus so you can get preparations done faster. The app also lets you schedule and remotely activate the Instant Pot Pro Plus, which can be handy when you can't spend all your time near the kitchen.
A new handle design makes it easier to remove the inner bowl, plus the lid can rest easily at the sides thanks to a mounting mechanism. The Instant Pot Pro Plus is the model to get if you want all of the bells and whistles.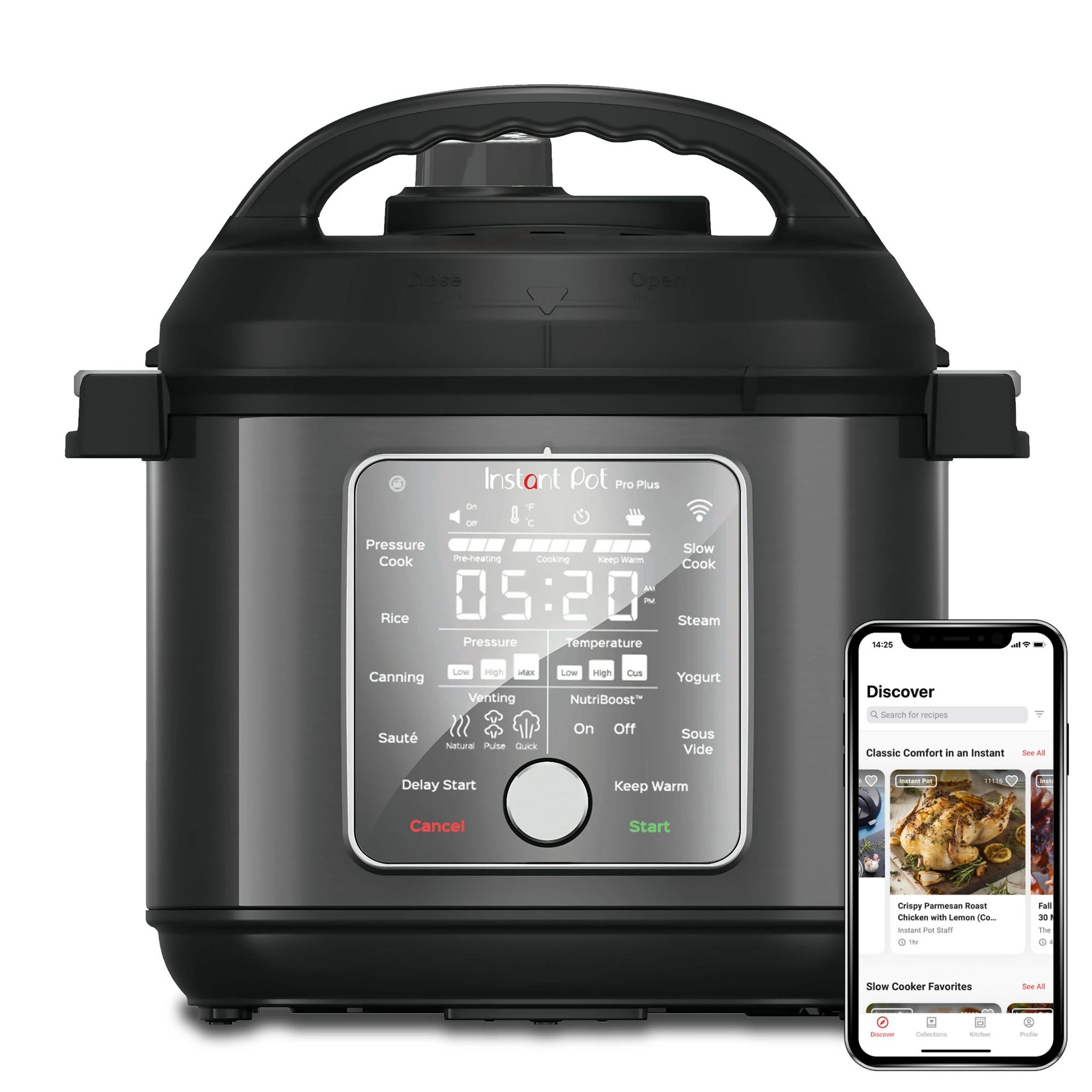 Instant Pot Pro Plus
Best feature-rich Instant Pot
Frequently Asked Questions
How is an Instant Pot different from a pressure cooker?
A pressure cooker can either be an electric device you plug into the wall, or it can be a stovetop cooker that uses your cooktop's heat. A pressure cooker builds up steam pressure inside of an airtight pot to quickly cook food. An Instant Pot is a multifunctional pressure cooker, meaning it has additional cooking functions outside of pressure cooking. Instant Pots also are slow cookers, sauté pots, warmers, steamers, and more.
Why choose an Instant Pot over another multicooker?
Other multicookers can perform many of the same functions as Instant Pots, but with Instant Pot, you're getting a trusted and well-known brand.
How many different Instant Pot models are there?
There are 20 different Instant Pot models, counting the various capacity levels. These are broken up into five families: Instant Pot Duo, Instant Pot, Instant Pot Duo Plus, Instant Pot Pro, Instant Pot Max, and Instant Pot Pro Plus. You can also find older discontinued models still on sale.
Are Instant Pots safe?
You may have heard stories in the past of exploding pressure cookers that resulted from a malfunctioning unit or a random case of bad luck.
Instant Pots have multiple built-in safety mechanisms such as lid closing and locking mechanisms, anti-blockage vents, automatic temperature controls, high temperature and burn warnings, pressure regulation and excess pressure protection mechanisms, and extreme temperature and power protection features. These safety features help to prevent accidental fires and other dangerous situations, and encountering a risky Instant Pot situation is pretty rare.
Can you buy an Instant Pot with an air fryer?
Yes. Instant Pot came out with the Instant Pot Duo Crisp and Air Fryer, which has all of the features of a regular Instant Pot, and it air fries, too. Instant Pot also came out with an air fryer lid you can add to compatible Instant Pot models. The lid is an add-on accessory to can place on the Instant Pot, and it basically turns your regular Instant Pot into an air fryer. These Instant Pot models are compatible with the air frying lid: Duo 60, Duo Plus 60, Lux 60, Ultra 60, Viva 60, Nova Plus 60, Duo Nova 60.
Where can I find Instant Pot recipes?
Over the past few years, Instant Pots have increased in popularity, and so have Instant Pot recipes. Creative home cooks and chefs all over the place have published countless recipes online. You can find recipes for almost anything, from desserts to appetizers to easy weeknight dinners. The Instant Pot mobile app lets you search a curated selection and beam the settings for the recipe wirelessly to your Instant Pot Pro Plus.
What can't I make in an Instant Pot?
You can make almost anything in an Instant Pot, but there are a few foods you shouldn't cook in a pressure cooker. Unless you're using an Instant Pot with a crisping function, foods with a breading, like chicken tenders, probably won't turn out very well, because the Instant Pot moistens when pressure cooking. Some berries, like strawberries and blueberries, can also be a nightmare, as they tend to sputter out of the top as the pressure releases.
What are the best Instant Pot accessories?
The best Instant Pot accessories are items that will make your pot perform better and help your recipes come out tastier. But you also want additions that make cooking easier. Overall, when it comes to top-rated accessories, a good steamer basket is extremely important. While the Instant Pot comes with a trivet or steaming rack, it's a good idea to get a larger and better one. For many recipes, like steamed veggies, most chicken recipes, eggs, and potatoes, you don't want your ingredients touching the water at the bottom. A larger steam basket allows you to expand your instant cooking repertoire without sacrificing the flavor of the food or making more work for yourself.
A glass lid is another smart accessory for your pot. Standard lids obscure your view of the food that's cooking. With a glass lid, when you slow cook or sauté, you can see inside of the pot without uncovering your food and disrupting the cooking process.
Baking accessories are another must for your Instant Pot, especially if you enjoy sweets. For example, a good springform pan or cupcake liners that fit into your pot make cooking and cleanup simpler. With the right baking accessories, you can easily follow recipes for cheesecake, brownies, lava cakes, and more.
Does the Instant Pot offer smart features?
Every Instant Pot features a microprocessor that uses the amount of ingredients in the pot to adjust factors such as temperature automatically. This is a handy tool for novices. Instant Pots also include features such as 24-hour delay start times and, in some cases, LCD. If you have a model that uses Wi-Fi, you can monitor your Instant Pot with your phone. You'll also get alerts about your meal and suggested recipes from the Instant Pot app.
How does an Instant Pot work?
Instant Pots create steam pressure inside a sealed pot that cooks your food. The pot's built-in microprocessor accounts for time, temperature, and pressure, ensuring your meal cooks safely and evenly.
What size Instant Pot is best for you?
For a single person or couple, a 3-quart instant pot is usually sufficient. The 3-quart size is also ideal for cooking side items like rice or mashed potatoes. For three to four people, the 6-quart size is usually sufficient and for large families of five or more people, you'll want to go with an 8-quart or 10-quart model.
Are Instant Pots worth it?
Absolutely. They make cooking weeknight meals a breeze, allowing you to produce a delicious dinner just by throwing a few ingredients into the pot. Instant Pots can steam vegetables, sauté food, function as a slow cooker, and even produce a flawless cheesecake.
Be sure to stay up to date on the best Instant Pot deals here!
Editors' Recommendations